Odds are that if you have a Pembroke Pines business, you also have a building to go along with that business. And if you own that building, you will probably want to have it painted at some point to keep it looking clean and fresh. But painting a commercial building is far different from painting your home, and the team at Javier's Painting & Handyman Services are fully prepared to tackle any commercial building, whether it's an interior painting or exterior painting.
So, What Are the Differences?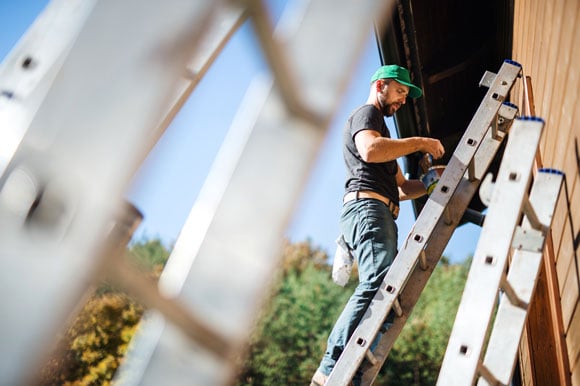 This is perhaps that most asked question, just what is the difference between a residential painter and a commercial painter. Some differences are obvious, and some are not, but there are important differences to know about. Don't just assume that someone who has done some residential painting in Hollywood can do a commercial job, and vice versa.
The primary difference is the scale of the job. For residential painting, often a single person can do several rooms or an entire home relatively easily, or they can get an assistant to help them. For commercial painting projects, it isn't unusual to have a full team of painters show up to tackle the job. Additionally, most Fort Lauderdale homes will not require scaffolding for painters, where at a commercial job scaffolding is very common and necessary.
Another difference is time flexibility. Commercial painters in Weston often have to be willing to work at hours that are not during the day. This is because they would interfere with the operation of the business, so commercial painters will work with a business to minimize the impact of their work on the business. Residential painters typically work during the business day and often will not work odd hours.
The quantity of paint is a very obvious difference between residential and commercial painting jobs. A residential painter in Davie can often use just a single can of paint, or sometimes two cans of paint if the room is larger. Exterior residential painting does use more, but still not on the scale that a commercial building requires. A large home might require 10 gallons of paint, where a small commercial building might require at least triple that amount. Larger commercial buildings can easily require hundreds of gallons of paint for a single coat around the entire building.
Along with the quantity of paint, the quality of the paint will differ as well. In residential painting, it is often needed to have a very high quality of paint because the homeowners want it to last a long time and is part of the appeal of the home. For businesses, often much of the exterior paint, and even the interior paint, is more utilitarian in nature. Because of this difference, paint quality matters a lot less for a commercial building. A small increase in the per-gallon cost of paint could mean thousands of dollars more for a commercial project, where a residential job in Miramar would only be an extra 10 or 20 dollars difference.